Shepherd's Company
Established in 1979, Shepherd's Company has been steadily gaining a reputation as a business that respectfully serves its growing list of satisfied patrons and friends including 24 counties of Missouri with over 2,000 commercial accounts.
From window cleaning to painting, from pressure washing to paperhanging or remodeling, we at Shepherd's Company strive to do our best in every employment obligation.
Hasn't the weather been AWESOME?!
The weather has been great for Shepherd's because we can still power wash! Get a head start on Spring Cleaning while the weather holds out!
Get with us today, and get your home cleaned! Contact us!
Have you prepared your Home for winter yet?
Let Shepherd's Company help you by cleaning out your gutters for better drainage, and cleaning your windows (to let the sunlight in and reduce heating costs).
For more information on these services, see: Gutters and Window Cleaning
Contact us today to set-up an appointment.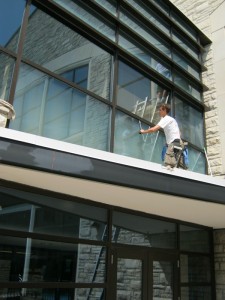 Recently, Shepherd's Company did window washing for the MizzouRec center at the University of Missouri at Columbia. With multiple stories and many windows, inside and out, we brought out a large and skilled crew equipped with ladders, buckets, towels, squeeges and multi-stage poles to clean the dirt and grime and make things shine!
The MU student rec center features beautiful facilities with world class exercise equipment and training classes serving the Mizzou campus population and alumni and hosts various athletic events including the Missouri Grand Prix swim competition at the Mizzou Aquatic Center featuring Lance Armstrong. We completed our work in preparation for this event, and you'll often find us back in the fall, readying and cleaning the building for the start of classes…
---
See more of our work >>