Archive for Our Work

Shepherd's Company just completed an extensive cleaning and staining job for Cedar Glen Condos at the Lake of the Ozarks. We power washed, brightened/neutralized, and stained all lakeside posts and band boards, as well as 52 personal decks. Earlier this Spring, we had done all the front cleaning and staining for Cedar Glen, and we look forward to doing more work for them.
Shepherd's Company loves to see our customers happy, and knows what it's like to enjoy one's home on a beautiful and well-maintained deck. Our investment in deck restoration and deck staining training and expertise goes a long ways. We know the right products to use, and have a 4-phase scientific process down to make your deck look the way it was always intended.
Weather and wear and tear are no match for a properly stained deck. Call us for a free estimate on your deck, porch, railing and stairs, and have them looking great before your next party or gathering. Our field service technicians work on properties all over Mid-Missouri and the Lake of the Ozarks, including in Columbia, Jefferson City, Osage Beach and outlying areas such as Hartsburg, Rocheport and Mexico.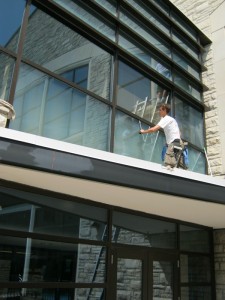 Recently, Shepherd's Company did window washing for the MizzouRec center at the University of Missouri at Columbia. With multiple stories and many windows, inside and out, we brought out a large and skilled crew equipped with ladders, buckets, towels, squeeges and multi-stage poles to clean the dirt and grime and make things shine!
The MU student rec center features beautiful facilities with world class exercise equipment and training classes serving the Mizzou campus population and alumni and hosts various athletic events including the Missouri Grand Prix swim competition at the Mizzou Aquatic Center featuring Lance Armstrong. We completed our work in preparation for this event, and you'll often find us back in the fall, readying and cleaning the building for the start of classes…